Meet the Heat Transfer Vinyl with a 5-Second Press
Meet the Heat Transfer Vinyl with a 5-Second Press
What would you think if we told you that you could improve your production speed by up to 3x with a new heat transfer vinyl? It'd almost sound too good to be true, right? But it is true! At Coastal, we now offer the new XPress Cut, a heat transfer vinyl with a 5-second press time. This means that your HTV design fully and permanently adheres to T-shirts and garments in just 5 seconds.
This is a game-changer! While most standard heat transfer vinyl for shirts takes a solid 15 seconds to press, this new vinyl takes 1/3 of the time. This will drastically improve your production speed, which can have a very positive effect on your bottom line.
But Wait There's More! Not only does XPress Cut press at a lower time than most HTV, but it also presses at a lower temperature – just 250°F to be specific. This means it takes less time in the morning to get your heat press warmed up and ready to go, and it also means there is less risk of scorching your T-shirts and garments when you press them.
Now, before reading this article, you may have seen XPress Cut when browsing our vinyl selection. Indeed, this brand is not actually new to Coastal, and we carried a previous version of XPress Cut for several years. But XPress Cut has since improved upon its original vinyl and now provides all of the benefits we just described and more. Here are some more reasons you'll love this new vinyl.
Reasons Why You'll Love XPress Cut HTV
Presses and fully adheres to the garment in 5 seconds flat
Very low application temperature of 250°F reduces the chance of scorching
Thin, elastic, and soft feel at just 90 Microns makes it great to wear
Transfers to a variety of fabrics: cotton, poly, blends, and spandex
Matte finish reduces glare/reflection
Wide array of colors including Fluorescent – perfect for every project!
Comes in 12" wide heat transfer vinyl rolls – perfect for hobby vinyl cutters and professional cutters
Available in a variety of lengths – from 5 feet to 50 yards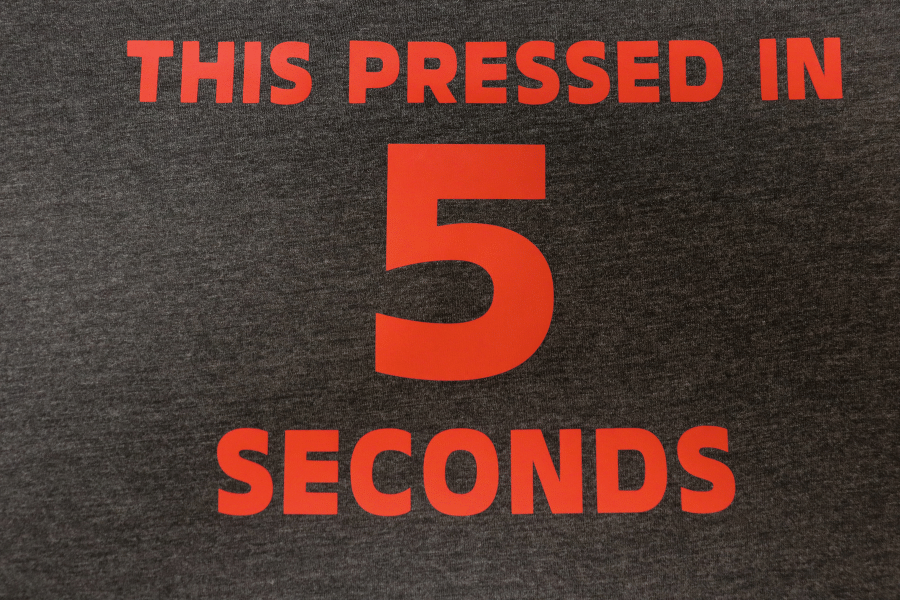 So How does XPress Cut Compare to Other Brands, Like Siser?
One of the most common questions we get is how does XPress Cut compare to Siser heat transfer vinyl? At Coastal, we love Siser products, and it's definitely not our goal to move you away from Siser. Rather, we believe that they both offer different benefits, and you may have customers who Siser would be best for and others who benefit from XPress Cut.
In general, XPress Cut HTV is most comparable to Siser EasyWeed heat transfer vinyl. Both HTVs are the same thickness at 90 Microns that provides a very soft and lightweight hand, and they both offer outstanding durability and washability. One of the biggest differences is the finish: XPress Cut provides a matte finish, and EasyWeed is glossy (unless you specifically purchase EasyWeed Matte). Additionally, XPress Cut presses at a lower time and temperature – 5 seconds at 250°F vs. EasyWeed's 10-15 seconds at 305°F.
Which Vinyl Cutters Work Best with XPress Cut?
Now, let's get into the cutting details. In terms of cutters, your standard vinyl cutter will get the job done – including hobby cutters like the Silhouette CAMEO, Brother ScanNCut, and Cricut in addition to professional cutters such as the Graphtec CE7000 and FC9000 series cutters.
No matter which vinyl cutter is your go-to, you will want to make sure that you use a 45-degree blade, which is generally your standard blade. That's it! Simple, right?
Any Tips on Working with XPress Cut?
Test Cut!
When working with XPress Cut and other heat transfer vinyl, always perform a test cut before cutting your full design. This will test if your blade is either too far out or not out far enough; ideally, you want your blade out as far as the thickness of the vinyl you are cutting.
Cutting
Once you have accomplished a clean test cut, the next step is to send your job to the cutter and let it do the rest. As is with other HTV vinyl, make sure that you are cutting on the vinyl side of the material, not the plastic-y carrier side, which is glossier in appearance.  After your vinyl is done cutting, it's time to weed away the excess material, and lucky for you, weeding XPress Cut is about as easy and effortless as it gets!
Pressing
Once you've successfully cut, weeded away the excess vinyl, and double-checked your design for accuracy, you are ready to heat press your design. As noted, just make sure your heat press is set to 250°F and press your transfer for 5 seconds. And voila – lift the press, peel the carrier sheet off, and you've got one fine-looking custom garment!
Layering
XPress Cut also has the ability to layer multiple pieces to make one entire piece come together, which involves multiple colors most of the time. When layering XPress Cut, we recommend layering within the same family of vinyl (i.e. stick to standard vinyl with XPress Cut – not metallic, glitter, etc.).
We also suggest to layer three times at most and to always make sure each layer touches the fabric somewhere. These suggestions will greatly improve the durability and longevity of your heat press vinyl transfer.
Wrapping Up
If you are ready to shorten production time and improve your efficiency while creating stellar-looking custom T-shirts and apparel, we highly recommend you give the new XPress Cut heat transfer vinyl a try! Even if you are a die-hard Siser fanatic, or have another favorite brand, we guarantee you will find a spot for XPress Cut in your product offering.
As always, if you have any questions about how you can grow your business with XPress Cut HTV or what the best heat transfer vinyl is for your needs, do not hesitate to contact the Coastal Customer Success Team at 800-562-7760 or by email at [email protected] We always look forward to hearing from you! Happy Crafting!
Credit : Source link