7 Custom St. Patrick's Day Products to Make You a Pot o' Gold
Looking for what to make for this St. Patrick's Day? We've got you covered. There are so many custom items that you can make – for your customers, friends and family, and even yourself – to celebrate the occasion! In this guide, we talk about our top 7 custom St. Patrick's Day products that you can make with HTV and sublimation to bring your business a little pot o' gold. So let's waste no time and dive in!
1. Custom T-Shirts with Heat Transfer Vinyl
It goes without saying that St. Paddy's T-shirts are above and beyond the hottest item that you can make for St. Patrick's Day. This was true 10 years ago, and it'll be true 10 years from now. In fact, "St Patrick's Day Shirts" is the most searched phrase on Google only after "When is St Patricks Day" and "Happy St Patricks Day" – searched even more than the St. Patrick's Day Parade!
With heat transfer vinyl, there are a million and one options of what you can make – from cutting simple shamrocks to punny phrases like "Irish you were beer." You can go super simple with white Siser EasyWeed HTV on a green tee, or for a little more flair, you can add green or gold Siser Glitter to any color of tee. 
You can also dress it up a bit with our St. Patrick's Day-inspired printed vinyl: shamrock circle and shamrock swirl. Both of these printed HTV come in several different colors, so you can create one-of-a-kind St. Paddy's tees that your customers will love.
2. Sublimation Buttons and Dog Tags 
Now, some folks don't feel like getting all dressed up in green for St. Patrick's Day and prefer something a little more lowkey, and that's okay! For those who want to share their Irish pride without committing to a full green ensemble, there are sublimation buttons and dog tags! Both of these are super fast and easy to print and press and are a great way to celebrate the occasion while avoiding getting pinched!
3. Sublimation 30 oz. Stainless Steel Tumbler
On St. Patrick's Day, two things are an absolute must: staying hydrated and keeping your bevs cold! And you can accomplish both of these with our massive 30 oz. sublimation tumblers. Custom tumblers are an incredibly popular item to make for almost any occasion, and St. Patrick's Day is no exception. With these, you've got a whole lot of real estate to add full-color shamrock graphics and cute phrases that your customers will adore. One thing's for sure – your customers will be using their St. Paddy's tumbler long after March 17.
4. Sublimation Skinny Can Cooler
With the ever-increasing popularity of hard seltzers that come in tall, skinny cans (and even beers in skinny cans), it's time to start thinking about personalized skinny can coolers for St. Patrick's Day and beyond. Of course, there are two ways you can go. You can create traditional beverage insulators with sublimation on the neoprene skinny can coolers – or you can try out our brand new stainless steel insulated skinny can coolers. 
While you might generally associate can coolers with summer and barbecues, they're really good for any event where there's at least moderate levels of alcohol consumption. And we can think of no better day than St. Patrick's Day for just that! Sláinte!
5. Sublimation Gaiters and Sequin Masks
By this point, almost everybody has a face mask, but do they have a St. Paddy's one? Grab a white face & neck gaiter and go crazy with the leprechauns, rainbows, and of course, the proper amount of green. You can even add an orange beard for the full effect.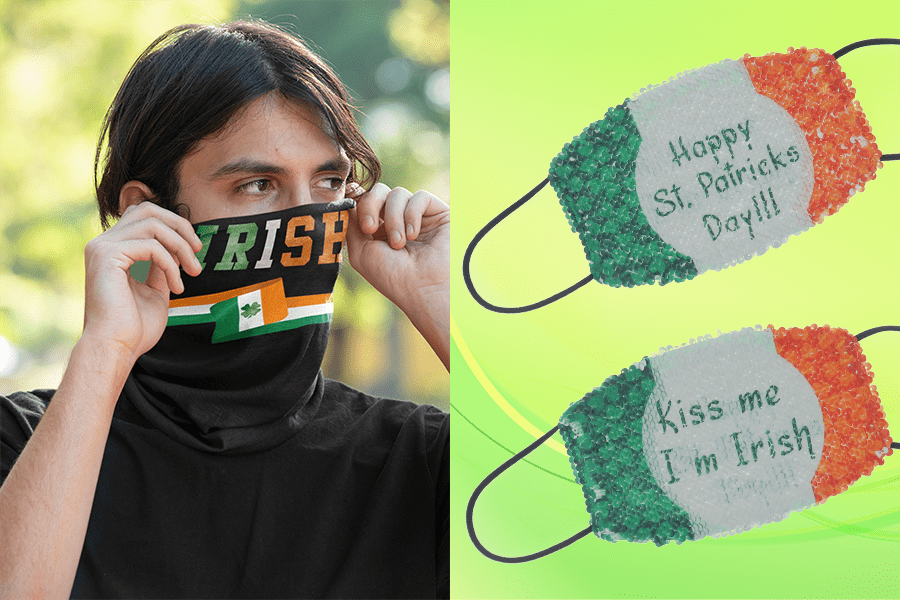 Or, if you'd like to add a bit of sparkle and magic, try out the two-sided sequin masks. On one side, you can go with a traditional design, and then flip the sequins to reveal a celebratory graphic or snarky saying. The sequin masks are both functional and fun.
6. Sublimation Neck Tie
Whether you work in a formal environment or would like to add a little extra something to your St. Paddy's attire, a sublimation neck tie is perfect for wearing on St. Patrick's Day. I think we all know someone who likes to wear a goofy tie every chance they get – this is for them! You don't need a large press or printer for these either; you can press in sections and make your tie look spectacular! Our only advice, though, is when pressing in sections, make sure your patterns line up and avoid solid colors.
7. Morning After Mug
This year, March 17 falls on a Wednesday, so you can guarantee your customers will need a pick-me-up as they head into the office (or their work from home station) the next day – that is as long as they don't come down with a case of the brown bottle fever! Create custom St. Patrick's Day mugs for your customers to enjoy their piping hot dark roast in all the days leading up to St. Patrick's Day and beyond. Custom mugs are a surefire success for pretty much any holiday, and that includes St. Paddy's.
So there you have it – our list of 7 lucky custom St. Patrick's Day products to make this year! You don't have to be lucky or even Irish to enjoy all of the great sublimation blanks and heat transfer vinyl that we have for St. Patrick's Day. Make your items unique and creative, and your friends, family and customers will be over the rainbow with what you have to offer. 
As always, if you need help planning what to make for St. Patrick's Day or have any other questions about sublimation, heat transfer, and beyond, do not hesitate to contact the Coastal Customer Success Team at 800-562-7760 or by email at [email protected]. Happy Crafting!
Credit : Source link